Rosewood Arts Centre's premier annual event, Art on the Commons, is almost here! This fine arts and crafts festival has been going strong for 29 years – next year, we celebrate the big 3-0. The festival features over 100 artists in a variety of media. All the artwork is juried to make sure the quality is top notch. Perusing the booths is a great way to spend a Sunday. Here are some of the many fun things to check out at the event, affectionately known around here as AOTC!
1.  All the art
So, 100 artists. As always, it's a great mix of new folks and returning favorites. This year's categories are ceramics, digital art, fiber/leather, glass, jewelry, mixed media, painting, photography, sculpture, works on paper and wood.
We mentioned jurying – wondering what that means? Our three jurors, Lisa Goldberg, owner of Lisa Goldberg Ceramics, Mary Gray, Director of the Ohio Arts Council's Riffe Gallery, and Pat Higgins, Vice President of the Kettering Arts Council, reviewed all the AOTC submissions and ranked each artist based on design, originality, presentation, audience appeal and eligibility. Come see (and buy) the artwork that stood out from the crowd.
2. The setting
You might have noticed that we're all about Kettering's parks. And why wouldn't we be? Lincoln Park is home to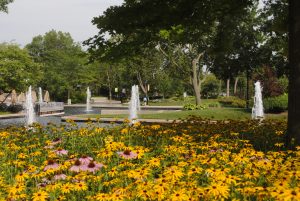 beautiful flowers, Kettering's iconic fountains, lots of public art, and it features plenty of green spaces, shade trees and benches for resting your feet. Come enjoy the park while it's bustling with people and full of even more great artwork.
3. Live music
Art on the Commons has featured live music for several years now. This year, we're changing things up a little to bring you the sweet sounds of the WYSO Excursions Stage with Niki Dakota. Bringing listeners eclectic sounds from around the world and from closer to home, WYSO especially loves to champion local artists and music that embodies the diversity of the Miami Valley. Rosewood Arts Centre and WYSO are delighted to showcase the uniqueness of Art on the Commons and of our local music heroes. The stage will feature Daniel Dye & the Miller Road Band, Shrug, Lioness and The Pullouts. Give it a listen – it's free!
4. Food trucks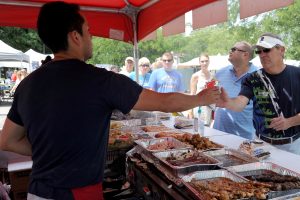 The region is home to some pretty fabulous food trucks. A tasty selection will be at AOTC, so come hungry. Harvest Mobile offers chef-prepared, locally sourced favorites; Sweet P's Handcrafted Ice Pops will keep you cool in the August heat (we've never met a Sweet P's flavor we didn't like, by the way); Bella Sorella Pizza is serving up wood-fired deliciousness; and BJ Events has the Greek food we dream about the other 364, non-AOTC days of the year. Seriously, the gyros.
The Fraze Pavilion's Ernie's Concessions will also be open for business with festival favorites like hot dogs, nachos and pretzels.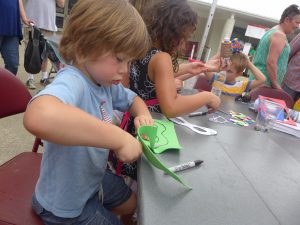 5. Family fun
Families with littles are more than welcome at AOTC. There's even a selection of free activities just for you! Kids are welcome to make finger puppets, beaded jewelry and an amazing origami Viking ship. The new Kaleidoscope van will make its first trip to AOTC to lead a fun art and nature activity all about the butterfly! The talented Rosewood faculty will also be on hand to show off their skills at fiber arts, jewelry making, painting and drawing.
---
This piece was written by Sara Thomas and originally appeared on www.playkettering.org and is reprinted with permission.