Wright State University Theatre will present its first streaming musical production of the year, "The Theory of Relativity," March 26-28.
Audiences can purchase tickets to watch "The Theory of Relativity" at showtix4u.com/event-details/49156. The musical will be available on-demand from 7 p.m. on Friday, March 26, to 11:45 p.m. on Sunday, March 28.
"The Theory of Relativity" features music and lyrics by Drama Desk Award nominees Neil Bartram and Brian Hill.

Through a collection of witty and moving songs, scenes and monologues, "The Theory of Relativity" introduces a group of college students experiencing their first independence and the joys and heartbreaks, the liaisons and losses, the inevitability and the wonder of human connection that comes with it.
Wright State's production is directed by Greg Hellems, head of the Musical Theatre program, and musical directed by R. Wade Russo, instructor of musical theatre.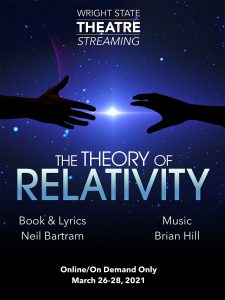 "The show is unapologetically about recognizing the need for human relationships and the experience of making and losing those interactions," Hellems said. "The lyrics have taken on a whole new meaning now that many of those connections have been disrupted by the real obstacles presented by COVID-19."
"The Theory of Relativity" is Wright State Theatre's first filmed musical. Hellems said shooting the film has been a rewarding new challenge.
"Working without a film crew, the cast and production team have explored the medium of film in the most accessible of ways, our iPhones," he said.
The collaborative filming process has included students, alumni and staff working together across the Dayton Campus to create art in the midst of the pandemic.
"For everyone working on this production, this was our first chance to be back in rehearsal and in performance since March of 2020," Hellems said. "I was so moved the first night the cast sang together live, I was teary-eyed. After a year of waiting, having a chance to make art again has been joyful."
The cast "The Theory of Relativity" features Tommy Cole (Oliver), Jonathan Crawford (Ryan), Austin Gladstone (Adam), Spencer Hall (Anthony 1), Kevin Lausche (Anthony 2), Ben Ohnemus (Mike 1), Nick Salazar (Mike 2), Jake Siwek (Paul), Amanda Astorga (Catherine 1), Nora DeGreen (Jenny), Lauren Eifert (Catherine 2), Tassy Kirbas (Sara), Eliana Taub (Mira), Delaney O'Toole (Amy), Molly Seybert (Caroline) and Ana Smith (Julie) with Tanner Gleeson and Alex Tischer (Male Swings) and Maggie Musco and Elisabeth Mies (Female Swings).
The production staff includes David J. Castellano, production manager/location manager; Katherine Rodriguez, assistant to the director; Aaron Poland, co-sound designer; Kevin Nedberg, technical director; John Lavarnway, props master; props artisans Julia Antoine, Greg Davis, Anna Hunter, Mariana Gonzalez and Murphy Vanbalen; Carly Kimmins, costume shop manager; Emmy Goerling, costumer; and Grace Randall and Lara Sagraves, sound technicians.