Cincinnati, home to the Cincinnati Reds and Fiona the hippo, is just east of the southern end of the Great Miami River. Located just 40 minutes south of the Riverway, it's the perfect day trip or an extended stay to add onto your Riverway adventure.
How to paddle there: Paddle down the Great Miami River, Ohio's only National Water Trail, through our 99-mile region. Hotels are located on the water in Dayton and Hamilton, making an overnight excursion possible. From Hamilton to Shawnee Lookout is roughly a 5-6 hour paddle. Your paddle adventure ends at Shawnee Lookout as you connect with the Ohio River. A 30 minute Uber or Lyft will allow you to explore Cincinnati. Admittedly, this is a one-way paddle so you will have to coordinate transportation back north to your origin destination.
How to cycle there: Follow the nation's largest paved trail network south via the Great Miami River Recreational Trail, Little Miami Scenic Trail, Ohio Bicycle Route 1, and Ohio to Erie Trail.
What you'll see there:
Cincinnati Zoo
The Cincinnati Zoo and Botanical Garden is the second-oldest zoo in the United States, opening in 1875, just 14 months after the Philadelphia Zoo opened on July 1, 1874. It is located in the Avondale neighborhood of Cincinnati, Ohio. The zoo is open every day 10am – 5pm and reservations are currently required. The availability per time slot will differ between member reservations and general admission tickets. Weekends tend to book quickly, we suggest reserving at least 2 weeks in advance for best availability. Tickets The availability per time slot will differ between member reservations and general admission tickets. Please check back often as spots may become available, due to cancellations. Weekends tend to book quickly, we suggest reserving at least 2 weeks in advance for best availability. Tickets range from 8.50 – 23.50 and all sales  are final.
American Sign Museum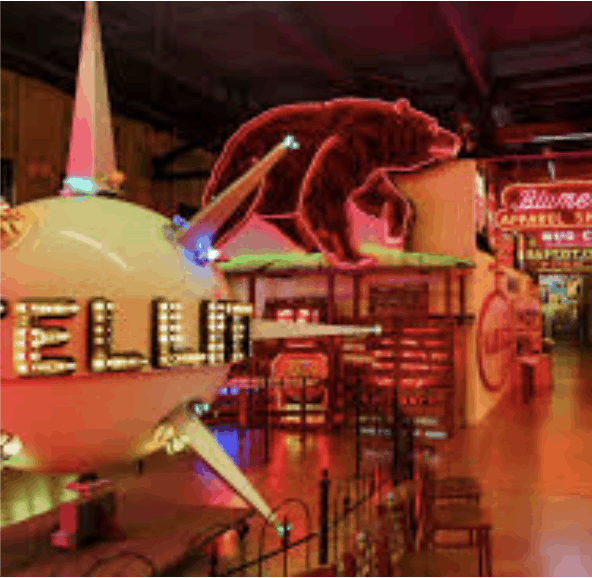 The American Sign Museum at 1330 Monmouth Avenue in Cincinnati, preserves, archives, and displays a collection of signs. The museum also displays the equipment utilized in the design and manufacture of signs. Tod Swormstedt began working on the museum in 1999. It opened to the public in 2005 and the hours are  Wednesday – Saturday  from 10 am – 4 pm and Sunday 12 pm – 4 pm.  Due to significantly reduced capacities, they require purchasing timed tickets before your visit. With advanced ticket purchases, simply print your tickets at home or present your e-ticket on your smart phone. Reservation confirmations will include a specific time to arrive and information about what to expect on your visit.  Admission is free for  Members, $15 – Adult  $10 for Seniors (65+), Youth (13 – 18) ad Military/First Responders.
The Cincinnati Reds
The Cincinnati Reds are an American professional baseball team based in Cincinnati, Ohio. The Reds compete in Major League Baseball as a member club of the National League Central division. They were a charter member of the American Association in 1882 and joined the NL in 1890.  Located on the winding banks of the Ohio River in downtown Cincinnati, Great American Ball Park serves as the home of the Cincinnati Reds.  Visit the Reds Hall of Fame and Museum, and experience Cincinnati baseball year-round with changing exhibits, player appearances, interactive exhibits and much more.
Findlay Market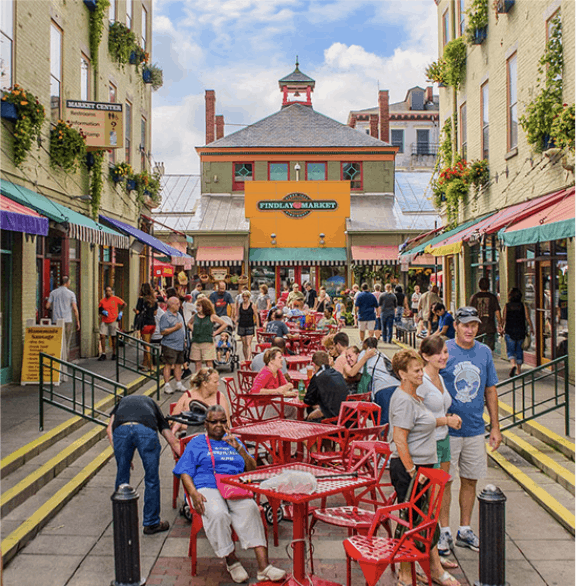 Findlay Market was listed on the National Register of Historic Places in 1972. The structure was among the first markets in the United States to use iron frame construction technology and is one of very few that have survived.  It was renovated in 1973-74 as part of the federal Model Cities program. It was renovated again and expanded in 2002 and 2003. A Longtime hub of vendors selling meat, produce & other local foods, plus a seasonal farmers' market.  Check out cooking classes at Findlay Kitchen. The market is open  Tuesday-Friday 9am – 6pm, Saturday 8am – 6pm and Sunday 10am – 4pm.
Cincinnati Art Museum
The Cincinnati Art Museum is one of the oldest art museums in the United States. Founded in 1881, it was the first purpose-built art museum west of the Alleghenies. Its collection of over 100,000 works spanning 6,000 years of human history make it one of the most comprehensive collections in the Midwest.  Due to Covid 19 advanced online registration is required to limit capacity. Please be prepared to show your tickets at the door. General Admission is always FREE. Hours Tuesday–Sunday, 11 a.m.–5 p.m. Thursday, 11 a.m.–8 p.m.
Cincinnati Museum Center
The Cincinnati Museum Center at Union Terminal, originally Cincinnati Union Terminal, is a mixed-use complex in the Queensgate neighborhood of Cincinnati, Ohio, United States. Once a major passenger train station, it went into sharp decline during the postwar decline of railroad travel. The Museum  is actually a compilation of museums housed within the art deco-style Union Terminal buildingThere's the Cincinnati History Museum, which contains exhibits on everything from the city's various modes of transportation to the city's contributions during World War II. There is also the Duke Energy Children's Museum, which features interactive exhibits for little ones. The center's Museum of Natural History & Science covers a variety of subjects, including dinosaurs, the Ice Age and the astronaut Neil Armstrong. In addition to these museums, the center has an OMNIMAX theater, a library and archives and a research center.The museum is open Monday through Saturday from 10 a.m. to 5 p.m. On Sundays, the museum is open from 11 a.m. to 6 p.m. Admission varies depending on the ticket package you purchase: For instance, an adult ticket to all three of the museums costs $12.50 and a child's ticket from 3 to 12 years costs $8.50. There are also discounts for seniors and younger children. Meanwhile, an adult ticket to the Ultimate Dinosaurs Exhibit and the Dinosaurs OMNIMAX film costs $16.50, while a child's ticket costs $12.50